Come work for a day, for free! Every Tuesday - book here 🙌.
Team Away Days
Pick & Mix our dedicated creative team space with climbing, yoga, meditation, catering, wakeboarding and paddleboarding. All in one place, in London!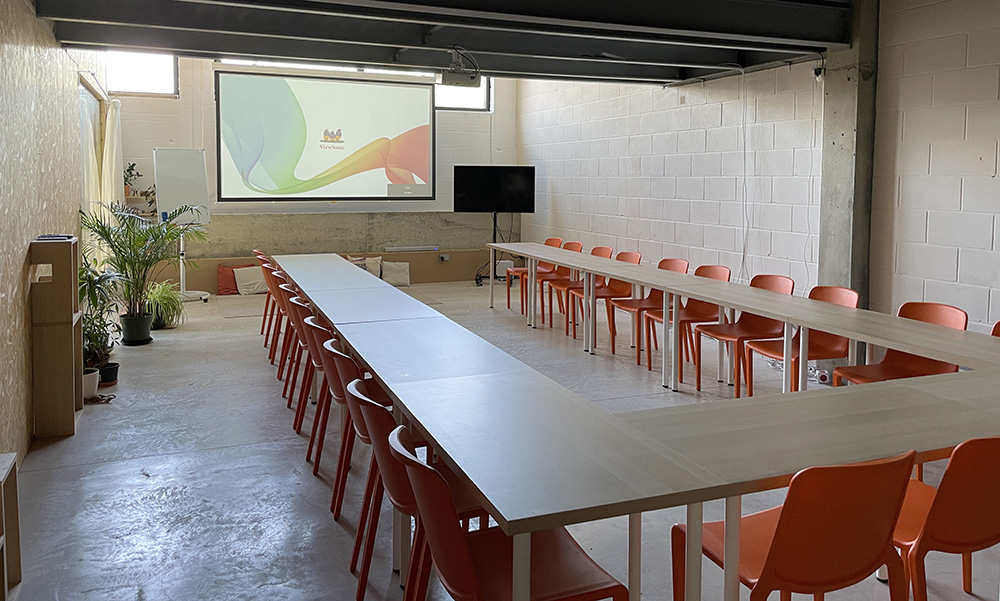 Team Space
Your home base for the day(s). Our dedicated 100sqm team floor designed specifically for company away days. One simple all-inclusive price of £400/day for up to 12 people, then £35/day/person for the day.
Exam

16

Classroom

36

Coworking

36

Boardroom

30

U Shape

20

Banquet

30

Theatre

42
£35 per person for the day (9am-5pm, £400 minimum)
Creativity
x3 magnetic whiteboards on wheels
Pens, Markers, Pencils, A4 Paper, Post-Its
Modular Furniture
40 Stackable Chairs
5 Beanbag armchairs + cushions for 15
Modular Desks/Tables
AV & Tech
3x2m 4K Projector Screen
50" TV on Wheels
Sound System
1Gbps fiber internet
Private Kitchen
Induction Hob
Oven
Plates, bowls, mugs, glasses
Cutlery, knives
Selection of English & Organic Teas
Filter & Bean-to-Cup Coffee
Chilled filtered water
+


Add your add-ons to create your perfect, balanced day
Yoga

A one hour yoga class in our dedicated 100sqm Yoga & Meditation studio, tailored to your needs and the time of day you pick it (ie energising, relaxing, e.t.c.)

1hr

+ £15pp

Meditation

An invaluable practice to maintain a peaceful, clear and focused state of mind.

1hr

+ £15pp

Climbing

Climbing at Rise Climbing, our neighbour climbing center. Shoe hire included. A great team activity. The whole team, or smaller groups, can attend throughout the day. Rise also serve beers.

1hr

+ £15pp

Wakeboarding

One hour's wakeboarding or paddleboarding at Wakeup Docklands, a 5 minute walk from us. Groups of 8 per hour.

1hr

+ £45pp
"We had a great time. Spent four days there on two separate team occasions and both times your team made sure we had everything we needed, and the space provided us with a relaxed atmosphere in which to consider things together as a team, and share our experiences. The yoga classes and the climbing wall next door also made for some great team activities that everyone enjoyed."




"We hosted an offsite away day at this venue. It was a great space that was flexible for us to use. Really nice light and the team made us really welcome."